Consulting
LSV Group and Consulting

LSV Group specializes in making business dreams come true, by preparing, executing, implementing and leading change using LEAN Six Sigma tools as the foundation.
Why hire a Lean Six Sigma consultant?

Company employees may be biased.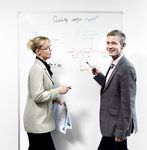 Implementing Quality within your organization is not about writing and distributing a manual. It's a new way of doing work with a new set of tools and it's going to have profound implications on your compensation and organizational structure.
Even though you may be calling 'straight' shots, others may feel you have ulterior motives. An outside Six Sigma consultant, however, has nothing to win or lose by their recommendations.
When contracting with LSV, your business can rely on 100% customized project set-up, and ultimate cost/benefit.
We base our consulting upon needs and demands, and have made it our core business to take the best from each concept/methodology, and create models individually for all our customers.
This means that your business will never invest and pay for services never used or not needed.
We can assist you with
Beneficial process optimization based on a number of different methodologies. Most recognized would be
LEAN
Six Sigma
Process Digitalization
Change Management
Project Management